Loren is Geek Girl Tech's Chief Impact Office and works remotely from Missoula, MT. She recently celebrated her 1 year anniversary with the company!
What are you currently reading or watching?
My role at Geek Girl Tech is technically Chief Impact Officer, but working at a small company means I do a lot of things I normally wouldn't do in this role. One thing I've come to love is accounting — learning to manage our finances, pay the bills and run payroll. We're thinking about trying a new way of accounting — and I'm currently reading a book called Profit First.
In the book, author Mike Michalowicz says that as humans we're wired to take as much as of something of what's available — take cookies for example, can your really just eat one? The same concept is true for money. If you have a lot of money sitting in the bank, you're more likely to spend it.
The book presents a different way of managing money by using those existing habits in a different way. By creating "smaller plates" of money, you'll theoretically spend less of it because there is less for you to access. It's an interesting read and I'd recommend it!
What do you like about working in the information security field?
Working in the tech industry — let alone information security — has been a big change for me! My background is in international development — I served in the Peace Corps in Madagascar and I previously worked at a non-profit, Asante Africa, that does work in East Africa.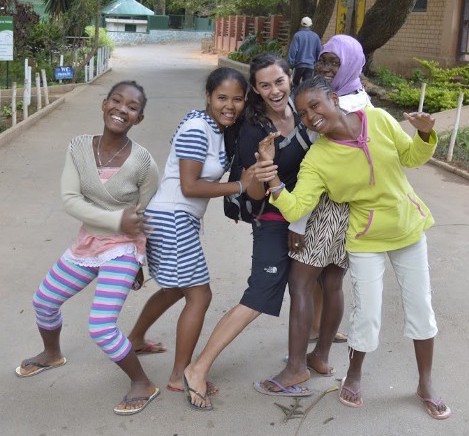 Loren served in Madagascar with the Peace Corps from 2013–2015.
I love working in a field that has so much potential for everyone. I believe that access to technology can have a big impact not only on the livelihoods of people in the US but also around the world. I'd like to see our company using technology to not only help small businesses and underrepresented in tech, but also help the underserved in places like the Philippines, Ghana or Mexico by creating more jobs and opportunities.
What is your proudest moment at Geek Girl Tech
My proudest moment at Geek Girl Tech thus far was being tasked with applying for our B Corp certification with B Lab. If you don't know already, receiving a B Corp certification will mean that we "meet the highest standards of verified social and environmental performance, public transparency, and legal accountability to balance profit and purpose."
The certification process is a long one — I spent months documenting our company culture, policies, and values. I had to answer questions like: How do we tackle our carbon footprint each year? How can we reward our employees for volunteering in their community? What percent of our companies suppliers are local?
In the end, we'll not only receive a certification, but we'll be working for a company that's worth working for, one that is socially and environmentally responsible. I'm glad I get to be a part of making those decisions! We've officially submitted the B Corp assessment and are waiting move on to the next steps. In the meantime, I'm working on a Green Business Certification too!
What's one unconventional thing you do outside of work?
One thing a lot of people don't know about me is that I spend a lot of time volunteering. I'm a Salesforce Administrator for two non-profits which means I build things behind the scenes that nonprofits can use in their Salesforce instance real-time to keep their data organized. My most recent project was restructuring how Asante Africa tracks student data in East Africa — which required building out a new data structure so they could start to track individual participation in after-school clubs. The greatest part about building something like this is knowing that the organization will benefit from being able to track more information — and use that information to tweak programs, apply for grants and ask for more donations backed by data.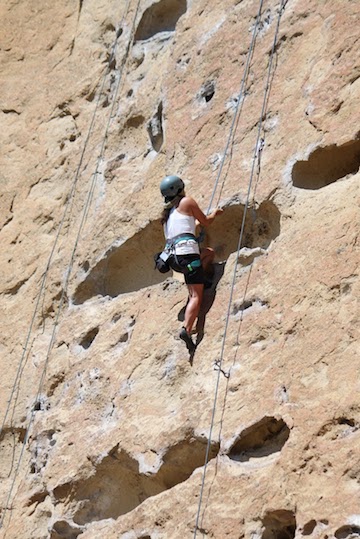 Loren's most recent climbing trip Smith Rock State Park, Oregon.
In my free time I also spend a lot of time rock climbing! I've been climbing for a few years now and recently got lead climbing certified in the gym, which is scary but so fun! I recently took a trip to Smith Rock State Park, Oregon for my first big climbing trip! It's such a blast doing something you love in nature and my goal for 2019 is to make time for more climbing trips outside (Red Rock, Nevada is next on my list!).
Geek Girl Tech is a public benefit corporation working to make the world a better place. We see technology and information security as tools to level the playing field and to protect people and businesses around the world. Learn more about our equity crowdfunding campaign on Crowdfund MainStreet.