Last week, Geek Girl Tech CEO & Founder took the stage at Impact Hub alongside Chief Impact Officer (and daughter) Loren Diesi. We stood proud in front of a huge crowd invested in the success of small businesses in the Bay Area. In our speech, Jenn amplified the need for better security — both for computer networks and also the economic security of small business, women, and underrepresented Americans in the tech workforce. The crowd, of course, cheered!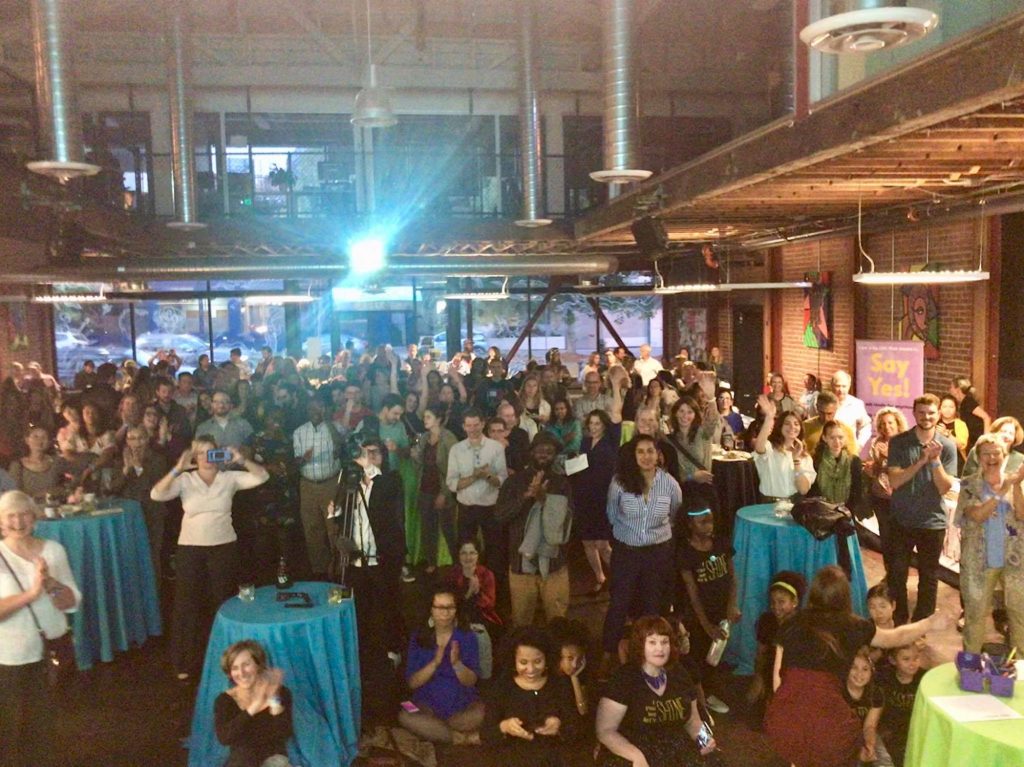 Dozens gathered for the successful launch event of Crowdfund MainStreet, a new regulation crowdfunding platform that connects America's unsung entrepreneurial heroes with everyday people who want to invest in them. We are one of five small businesses who co-launched investment crowdfunding campaigns to fuel the next phase of our growth trajectories.
This exciting investment opportunity is made possible under the Title III of the (Jumpstart Our Business Startups) JOBS Act, the federal investment crowdfunding exemption by the Securities Exchange Commission (SEC). Before Title III of the JOBS Act, only wealthy Americans earning more than $200,000 with a net worth above $1 million were allowed to invest in private companies in exchange for equity. Now, any American can invest in impact-driven businesses they care about.
Why We Should Invest In Security For All
We became a public benefit corporation earlier this year. This a major milestone in our growth as a socially conscious business. We're actively pursuing our B Corp certification. To fuel the next phase of our growth, we are accepting investment. To learn more about our offering, please visit our Crowdfund Mainstreet campaign page.
Investing in Geek Girl Tech's growth means investing in:
Women-owned businesses, socially conscious business practices, & protection and growth of small business/local economy
Creation of jobs for women, people of color, and other underrepresented people
Creation of a security awareness training program for all!
Small Businesses Need Our Help
43% of all cyber attacks are aimed at small businesses (Symantec). We work with small business because many are vulnerable and are lacking the tools, resources and knowledge to protect themselves. Most IT shops supporting small business aren't security focused, and most security companies do not focus on small businesses even though one breach could put a small company out of business.
We Put People Before Profits
"I'm building the company that I wished I had to work for: diverse, gender balanced, and socially conscious." Jenn, CEO/Founder
From the ground up, we prioritize people before profits. That includes hiring people based on their potential and training, not necessarily their college degree; paying people fairly and equally; embracing transparency, and giving back to the community. We're a for-profit company with a social mission, and we believe in making the world a better place through security.
We Level the Tech Playing Field
We believe strongly in diversity, fairness and equality, and we are creating opportunities for women, underrepresented folks and LGBTQIA people. We practice diverse hiring and we prioritize women-owned local vendors for our company needs. We treat people with respect and dignity, and we are actively pursuing a B Corp certification. We currently have two full-time employees and a handful of contractors around the US and world.
We currently have two full-time employees and a handful of contractors around the US and the world. Out of 18 employees and contractors Geek Girl Tech has hired over the past 3 years, 58.8% have been people from diverse backgrounds, and over 70% have been female.
We've recently hired our second full-time employee Karen, a recent graduate of the Year Up program, to work with us. She's been getting up to speed on our clients' environments, getting her feet wet with desktop support work, and has also been working on a project to design a two/multi-factor authentication solution for small businesses — which is no small feat.
How Crowdfund MainStreet Works
To get started on the registered regulation crowdfunding platform, please complete the following steps:
Visit crowdfundmainstreet.com.
Create a free account with your email address or social media profiles (LinkedIn, Facebook, Google).
Complete your profile.
Learn more about investment crowdfunding through the Investor Educator Materials.
Explore campaigns on the platform.
Ask us questions directly on our campaign page. Please note our conversation will be made public on our campaign page due to Title III of the JOBS Act rules enforced by the SEC.
See You on Crowdfund Mainstreet
At Geek Girl Tech, we are on a mission to bring stability and security to the world; a world where everyone has equal access to opportunities, resources and community. We hope to inspire other companies to prioritize socially responsible business practices and to put people before profits — just like we are.