Meet Loren, the brilliant Technical Specialist at Geek Girl Tech, whose wealth of knowledge and passion for all things tech has made her an invaluable member of our team for the past year and a half – get ready to be inspired!
Who inspires you?
I am mostly inspired by my parents. Growing up, they always made sure I was taken care of and that I was their first priority. Even when times were not that great, they made sure that I never needed or wanted anything. My mom taught me that anything I wanted to do was attainable no matter my size or the color of my skin. My dad taught me that if you're going to do something, make sure to do it right the first time. They inspire me to continue to work hard and work toward my dreams.
What would you name the autobiography of your life?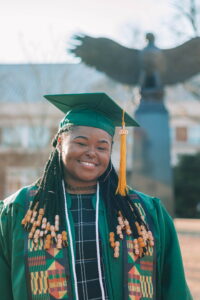 Oftentimes, others wonder how I got where I am today, especially being a woman of color. From a very young age, my parents focused on making sure I understood the importance of education but also doing what I love. Once I got to college, I knew I wanted to do something in technology but wasn't sure how to do it. I never stopped looking for different ways to fit into the technology community and finally found things I loved. I landed my first internship in my last semester of college which changed my direction completely, and helped me grow my career into what it is today!
What is your proudest moment at Geek Girl Tech?
My proudest moment at Geek Girl Tech is when I was able to conduct Mosyle enrollment sessions for one of our clients. If I am being honest, I wasn't too sure how I was going to go about the process. I was not too familiar with Mosyle so I was nervous to take on this project. Jenn and Kim were both super helpful and anything I needed, they were right there to help me. I was able to figure out who needed to enroll, send out a mass email, and work through the calls! Though it took a while, I was finally able to finish the project and I was so happy that all my hard work paid off!
Why do you believe the work of Geek Girl Tech is important?
The work Geek Girl Tech does is important because not only is security important but being kind and giving great service is important as well. I love the fact that Geek Girl Tech strives to create opportunities for women of color since there are not many out there for us. I also love that we conduct our work with such care for all clients no matter who they are. Geek Girl Tech is an amazing place to work and I love being a part of the team!
Geek Girl Tech is a public benefit corporation working to make the world a better place. We see technology and information security as tools to level the playing field and protect people and businesses around the world.