Two-factor Authentication (2FA) is a security feature that is designed to add an extra layer of protection to your accounts. When enabled, it prevents unauthorized access to your accounts by requiring you to key in a unique code to verify that it's you who's attempting to login to the account. Today we're going over how to enable 2FA to protect your Instagram account, so you can happily browse, socialize and network securely without worrying about getting hacked.

Why 2FA is Necessary
You've probably heard the horror stories of people being locked out of their Instagram accounts and losing all of their pictures and followers in the blink of an eye. If Instagram is where you carry out your marketing strategy to get business, it's especially critical that you 2FA in place to protect your confidential data.
Here are some key things you need to consider when it comes to the security of your Instagram account:
Antivirus protection isn't enough
Yes, it's important to have up-to-date antivirus protection set up on all of your devices, but antivirus protection won't keep hackers out of your Instagram account. While antivirus software will ward off viruses and other malware, 2FA ensures that hackers can't authenticate with a password alone.
Your password is your weakness
Speaking of passwords: There are several ways that hackers can gain access to your account, but the use of weak passwords is one of the easiest ways by far. In brute force attacks, for example, hackers use powerful tools that try out several different password combinations until it uncovers your password. The tool does all the work for them – all they need to do is sit back and wait, and it often doesn't take long!
But here's where 2FA comes in with all its awesome glory. If someone does happen to figure out your password, they still won't be able to get into your account because they won't have the secret code that 2FA kicks out to you as an additional authentication step.
It's so much bigger than just 'data'
You may not see the importance of securing your account just yet, but we're here to tell you it's so much bigger than the data hackers can access through your accounts. Sure, they could swipe your social security number or credit card numbers and go on a shopping spree, but not all hackers have the same motives.
They could also use your account to post propaganda or other inappropriate content, swindle your customers out of their money, spread viruses, and more. In a world where cancel culture prevails, your reputation (and that of your small business) can mean the difference between success and swift, catastrophic failure. Setting up 2FA is a breeze, and it can help you avoid some major problems in your business and personal life. If you're ready to stop worrying about security and get 2FA set up on your IG account, follow our handy step-by-step tutorial below.


Instagram offers a couple of options for enabling 2FA. We highly recommend that you use an authenticator app to get your login code, but if you'd like to use SMS, we've put the instructions further down below. We did an in-depth review of the differences between the two methods here, if you'd like to learn more about how each option works to protect your devices and data.
Setting up 2FA with the Authenticator app
To set up an Authenticator app, follow the prompts below. For this post, we used Google Authenticator.
Log into your IG account, go to your profile, and tap on the Menu icon in the top right corner.

Click 'Settings' at the bottom of that page.

From the Settings menu, select 'Security'.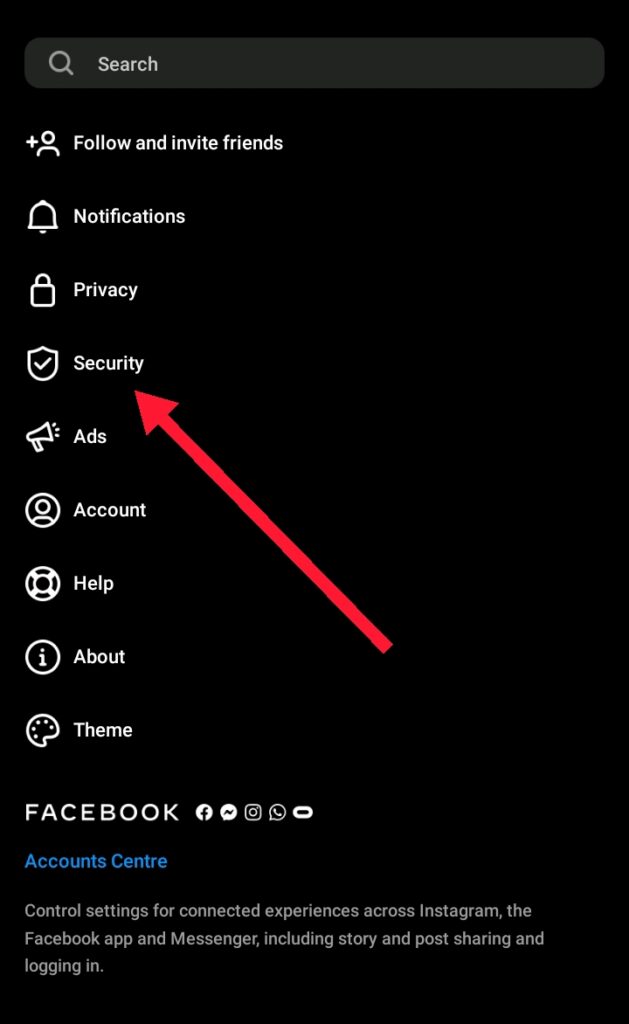 From the Security menu, select 'Two-factor authentication' and then, click on 'Get started'.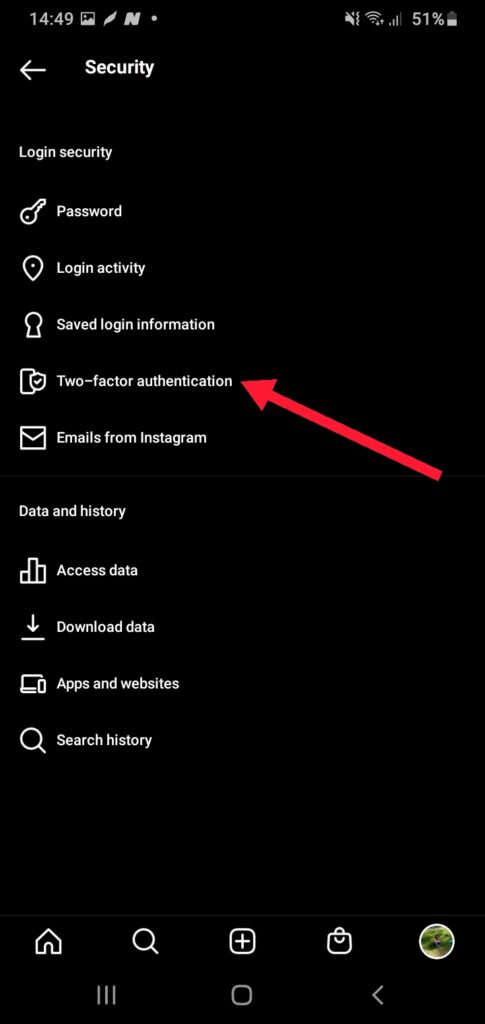 Activate the Authenticator App by clicking the button next to it. Instagram will tell you to download an authentication app from the app store. If you have one already installed, such as Authy, then go ahead and use that.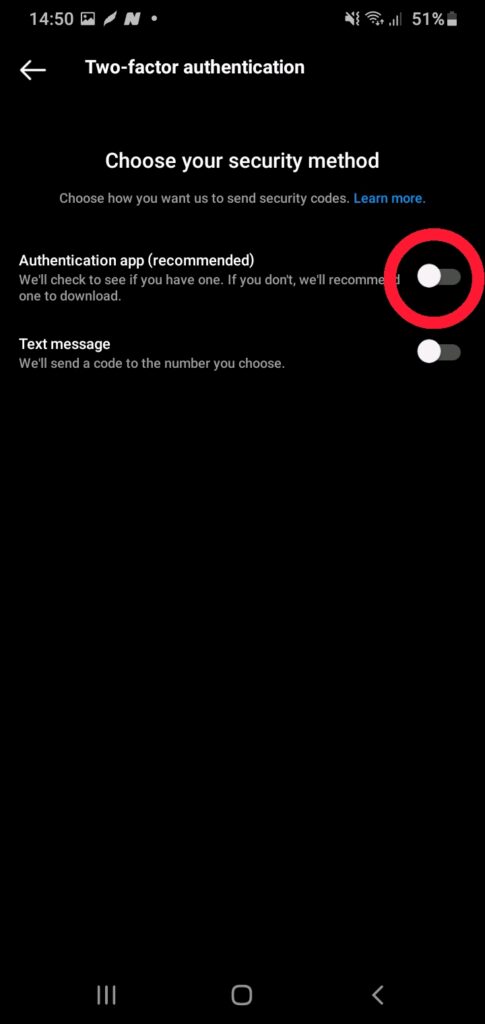 Once the app is installed, click 'Get started'. Complete the process of activating 2FA on Instagram using the Authenticator App by pasting the

6-digit code

you will get from this app on your Instagram account confirmation page.
Setting up 2FA with SMS codes
Log into your IG account, go to your profile, and tap on the Menu icon in the top right corner.

Select 'Settings'.

Note

: If you're on your mobile phone, the settings icon is located on the bottom region of your app.

Navigate to 'Security'.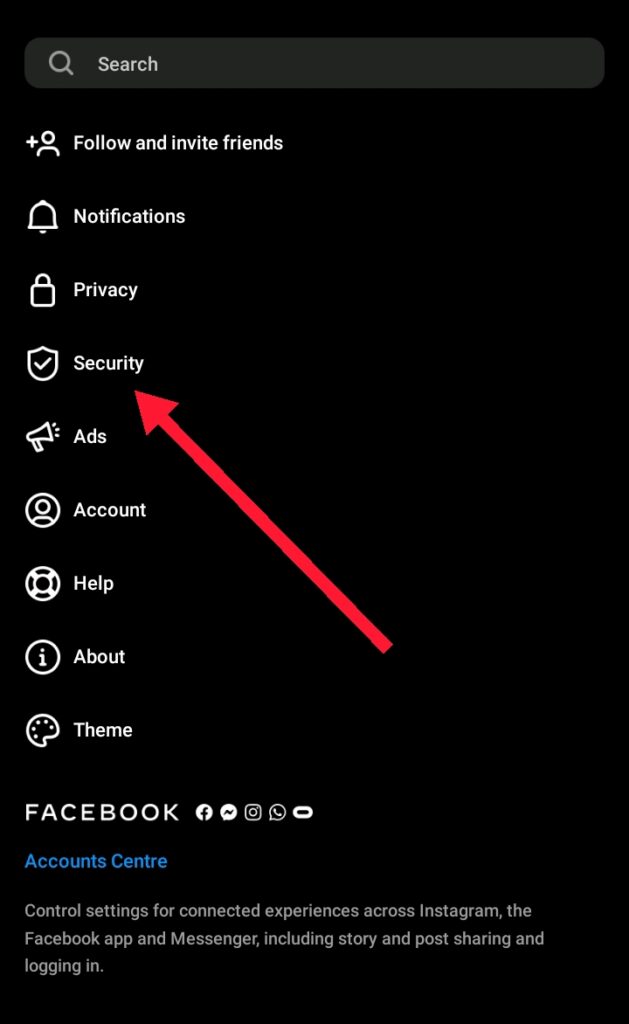 In the Security menu, click on Two-Factor Authentication.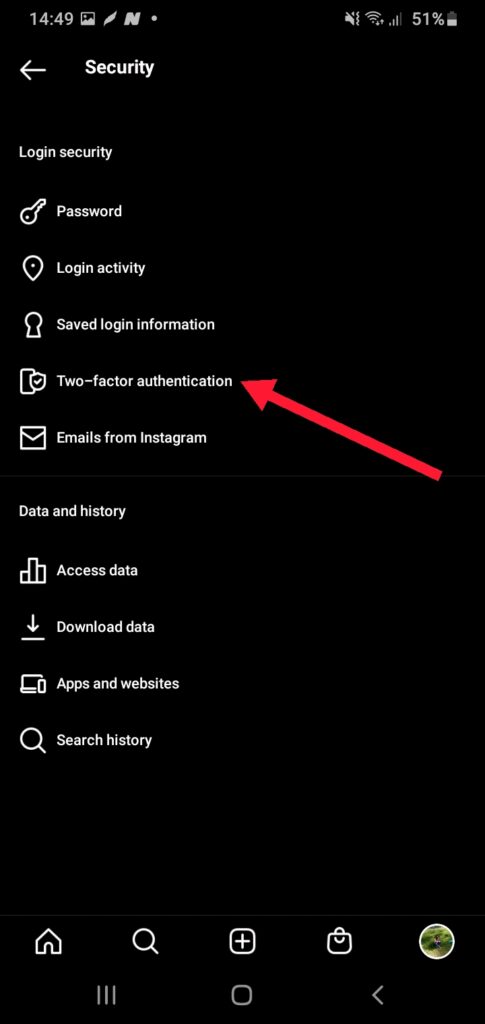 Select 'Get Started'.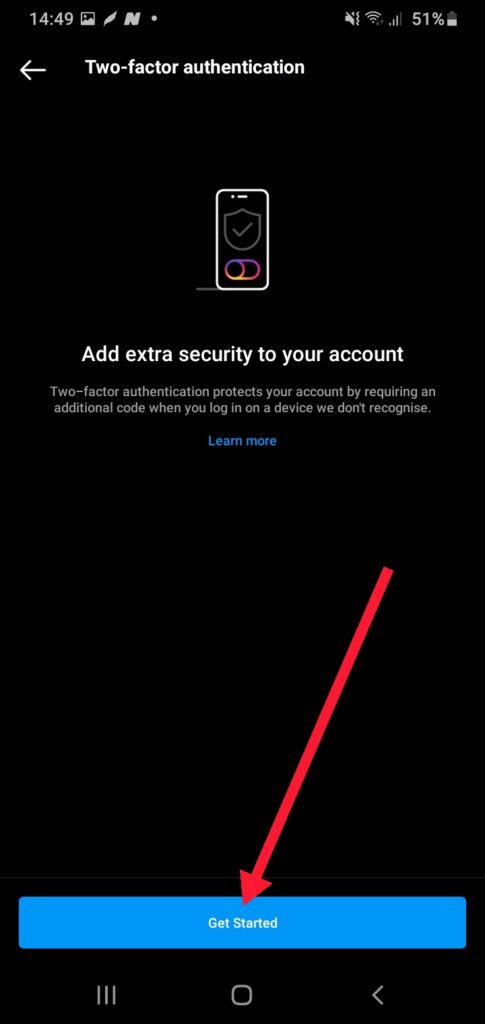 Activate the 'Text Message' functionality.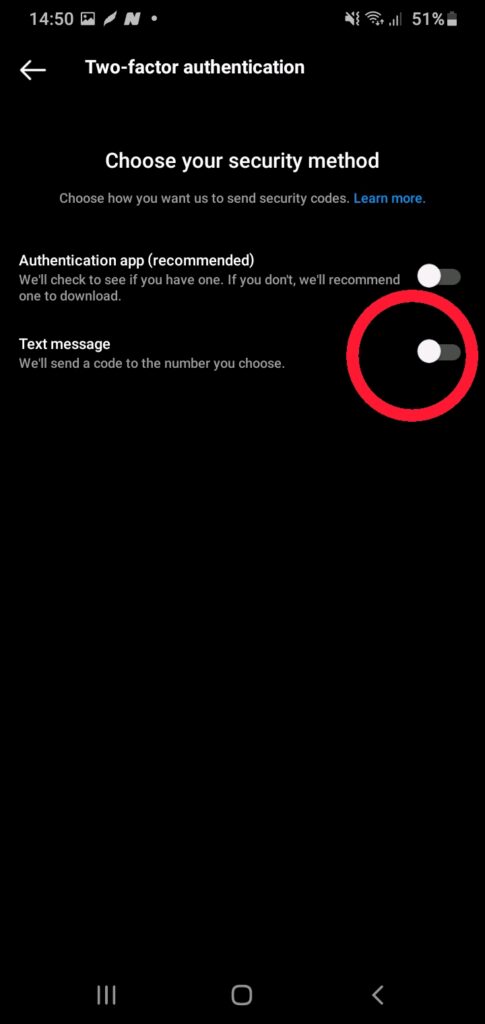 Add your phone number.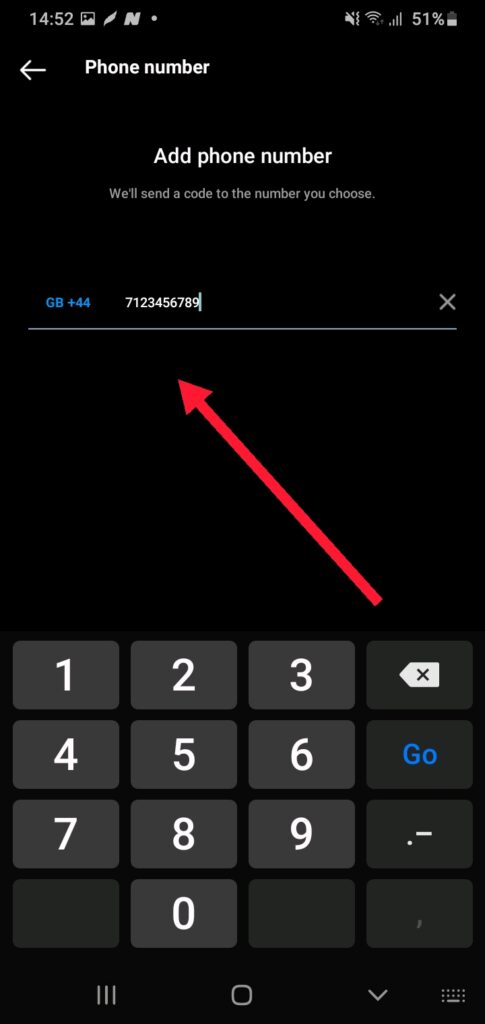 Instagram through Facebook will send a 6-digit code to your phone. Enter it and click 'Done'.
Setting up 2FA on the Instagram website
If you're browsing Instagram via the IG website, follow these prompts to enable 2FA for your account:
Log into your IG account and then click on your profile. A short drop-down menu will appear. Select 'Settings'.

Select 'Privacy and Security'. Another menu will pop up on the right hand side of your screen. From the new menu, select 'Two-factor authentication'.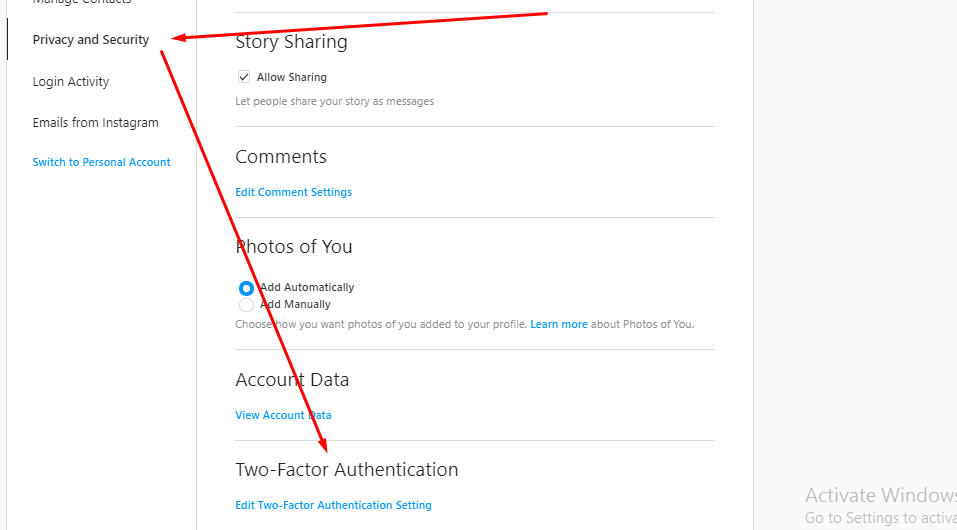 Choose Text Message or App and follow the prompts. They're the same prompts as the activation process for your phone.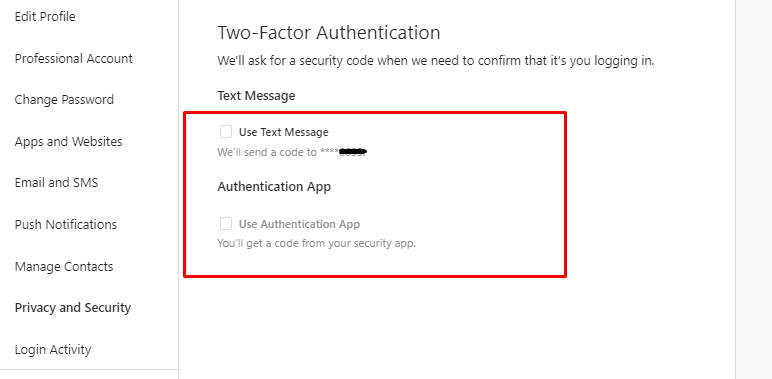 Voila! If you made it this far, you've enabled 2FA on your IG account and you can breathe easier knowing that your Instagram account, and all of your sensitive data, are safe and secure. Woohoo!
Happy browsing and stay safe!